Eyes of the Owl - Used Books since 1978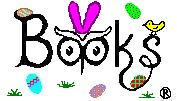 We support area non-profits. Please contact us if your school club, association, library, arts program, or other nonprofit organization needs help with fundraising. We participate in fundraisers that help promote our business and offer an opportunity to familiarize community members with our shop and its offerings...
RAFFLES: We are happy to donate a sizable gift certificate.
AUCTIONS: A selection of appropriate books and records.
PLAYS: We lend appropriate volumes for your set.
FESTIVALS or FAIRS: We rent booths or tables at indoor functions within 45 minutes of our shop.
Perhaps you are holding an antique fair? We are happy to participate within a one hour radius. Count on us to offer expert "roadshow" style assessment of books for your literary or historical society fundraiser.
These photos show Lindsey at the Dover Children's Home reviewing the selection of books donated by Under Owl!
We hosted an event at our shop for the Lakes Region Humane Society, in honor of Elizabeth Sherwood and John Hiel, pet owners and our collegues for many years. Volunteers were on hand with furry friends and collected about $150. A special thanks to our customers and friends who stopped in; to the local businesses who provided promotional space and door prizes: the Folk Cellar, Winnipesaukee Chocolates, Nordic Skier, Evergrain, Sprouts (all in Wolfeboro), and Mel Flannagan's Cafe in Rochester; and to the Conway Daily Sun.
Go to Main page | Inventory catalog | Order info | Customer feedback | Web Site Map.
Contact: Wally Keniston, Eyes of the Owl - Books
&nbsp &nbsp &nbsp &nbsp 59B Glendon Street, Wolfeboro, N.H. 03894-1876 U.S.A.
&nbsp &nbsp &nbsp &nbsp &nbsp &nbsp &nbsp &nbsp Phone: (877) 569-4040 to leave a toll-free voice-mail message.
&nbsp &nbsp &nbsp &nbsp &nbsp &nbsp &nbsp &nbsp &nbsp &nbsp &nbsp &nbsp E-mail: bqqks@excite.com